Our mission for cat comfort doesn't stop with housing. In addition to our top-of-the-line commercial cat enclosures, The Cat's Inn also offers cat beds and pillows to keep your feline friends cozy until their furever family comes along, or during their stay away from home.
Hardwood Cat Beds
Our four-post cat beds are handcrafted from your choice of beautiful and sturdy oak, cherry, or maple hardwood. Each bed stands 12 inches tall, 12 inches wide, and 16 inches in length and includes a washable mattress in a wide range of fun colors and patterns. Just as cute as they are comfortable, our beds provide cats with their own great spot to relax and nap after a long day of play.
Cat beds from The Cat's Inn are suitable for any small to medium-sized cat that weighs up to 16 pounds—perfect for enhancing one of our cat adoption units or even alongside your own bed at home!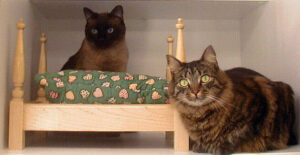 Handmade hardwood beds, available in Oak, Cherry or Maple. Comes complete with washable mattress for your loved one. Perfect for any small pet up to 16 lbs.
Length- 16″
Width- 12″
Height- 12″
Cost- $140.00
Shipping $29.95 each
Don't forget our comfy cat pillows either!
What bed is complete without a soft pillow to lay your head (or paws) on? Take your cat's comfort to the next level with a snuggly cat pillow atop their mattress, available in a variety of colors and styles, and also fully washable. Our cat pillows measure 12 by 16 inches to fit neatly on top of our four-post beds.
A hardwood cat bed topped with a one of our warm mattresses and cozy pillows is sure to be your cat's new favorite lounge spot—besides the box they ship in, of course.
For more information about our cat beds and customizable pillows, or our commercial cat townhouses, contact The Cat's Inn today. Let us help you give your feline residents the pampering they deserve!
Washable mattress 12″ x 16″. Patterns and colors vary. Your pet will love it.
Cost- $19.95
Shipping- $7.95
To learn more about The Cat's Inn's cat beds and cat pillows or to place your order, contact them today by calling 877-228-7466.